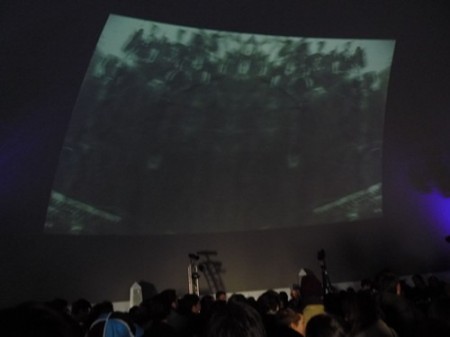 An album I've been listening to for a while, and will keep on listening to for a while to come, is Nicolas Jaar's endlessly yielding, Space Is Only Noise. He's dismayingly young – 21 the little shit! – to be making such extraordinary music and it's the kind that asks for a lot of space and time. Last Sunday, when all talk was of massive bowls, he took his noise to the huge space that is MOMA PS1's big old super upended-bowl of a geodesic dome – and took the time – five hours of it – to create an epic improvisatory performance.
While Jaar and colleagues persevered with their soundscapes inside the dome, I was engaged in my own devotional act of endurance: queuing to get in. During the long wait my friend attempted to explain David Chalmers' theories of panpsychism, panprotopsychism and two-dimensional semantics while I looked at all the pretty outfits flitting around us.
It was worth the brain ache, the stiff back and the outfit inferiority anxiety: inside, with gently dancing bodies packed in tight and Rorschach-y crowd projections flickering on the walls, there was an out-of-time feeling. Although not for the petulant boyfriend of the girl next to me. She, grooving defiantly, said: "He's one of my favourite musicians and I want to stay."
He, motionless, muttered back: "This is boring."
She loudly made a suggestion: "Look do you want to just take my camera and walk around and take pictures of people?" He took it, sulkily, and left. Streetstyle 1, Culture nil.
That evening, a more challenging act of audience endurance, in the form of the Super Bowl, which became especially personally tough-going after the half time show – desultory bird flipped, Greco-Roman excesses exhausted and no full time show to come. I stuck it out, proud of my commitment to New Yorker culture and happy when everyone lost their shit and then did so all over again for the parade, but I had and continue to have as firm a handle on how a game of American Football works as I do on panprotopsychism.
Here's the sexiest song of 2012 so far: