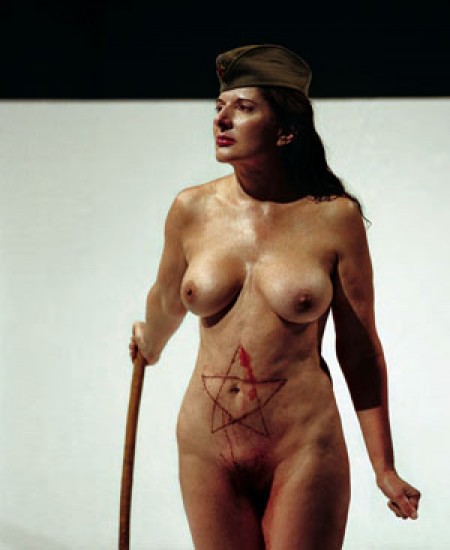 I saw The Artist Is Present at Film Forum last week and to understand the breadth of Marina Abramovic's awesome, I think you really just need to take two images of her from the film. One: her taking a razor blade to her belly to carve a big bleeding pentangle. ART. Two: following the cataclysmic heartache that was the end of her twelve year, intensely passionate, epic love affair with fellow performance artist Ulay, she goes shopping a lot at Givenchy. There's lovely footage of her swanning about in the Paris store, idly appraising extortionately expensive sequinned fandangles and then hanging off the balcony with Riccardo Tisci.
Nothing but love for a woman so deadly fucking serious about her art who is also able to wave an absurdly, adorably frivolous banner in the face of anguish.  Also, she is somehow able to invest the word "totally" with what I think must be unsurpassable comic and seductive freight.
Here she is looking rully fashion.