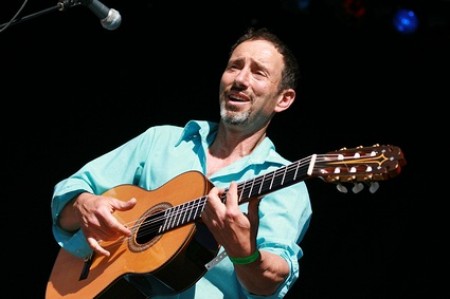 The greatest thing I did last week was go see the man dancing in my Twitter background dance, #irl, at the Bowery Ballroom.  There were so-many-but-not-enough moments of him flinging his guitar aside to let loose with all the floppy-limbed charm of a small child, looking very much like he was making it up as he went along (particularly to someone who'd spent a lot of her day watching Justin Timberlake videos). More reasons to love: frequent recourse to cowbells, and the sweetest, most gracious and long-winded response to people shushing other people in the crowd. I wish I'd written it down.
"I've been trying to work out who he reminds me of," said my friend. "And then I realised it's the five year-old-boy I babysit." She didn't believe me when I said that he was 61.
Here's a video from that night of him singing "I Was Dancing In The Lesbian Bar". It starts upside down and has little tuneless snatches of people in the crowd singing along – in other words it's appropriately, charmingly shambolic.