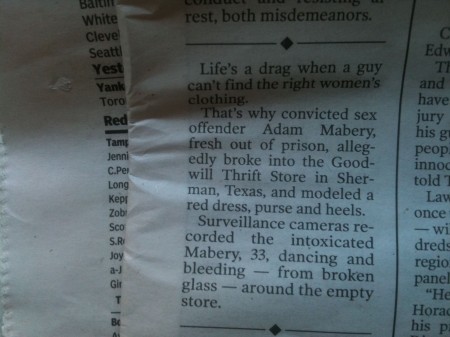 My friend read this to me on my sick bed the other day and it was better than Percoset. From Monday 16th April, this shard of sublimity from the New York Post's Strange But True sidebar:
 "Life's a drag when a guy can't find the right women's clothing. That's why convicted sex offender Adam Mabery, fresh out of prison, allegedly broke into the Goodwill thrift store in Sherman, Texas and modeled a red dress, purse and heels. Surveillance cameras recorded the intoxicated Mabery, 33, dancing and bleeding – from broken glass – around the empty store."
A thirty three-year-old man, in a red dress, dancing in high heels around an empty thrift store at night, bleeding from shattered glass. Don't tell me that's not the most exquisite image you've come across in months.