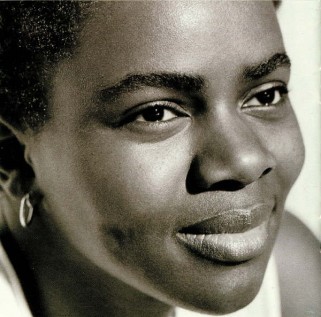 My profile of Tracy Chapman ran in the Sunday Times Culture section on Sunday – you can read it here (partially paywalled). We talked a couple of weekends ago in the Chateau Marmont, in a suite with that faded shabbiness peculiar to grand old hotels. Here's the whole conversation.
I have distinct memories of crying to one of your songs on a bus in India when I was eighteen.
Oh wow. Someone else told me about some crying.
 Maybe you get a lot of people telling you about crying…
It does come up, yeah… but they always say, "in a good way" - it's crying in a good way.
 I imagine a lot of people cried-in-a-good-way at your performance on Letterman.
Yeah, I can't thank David Letterman enough for being so generous and letting us use the track. I can't take credit, either, for having it on the record, because the record company had that idea.
 Yeah but you sung it!
That's true, I can take credit for that. I was there! [laughs] It was so nice to get the call. I've been on that show several times over the course of my career and it was always a great place to be. I mean.. he had just the best staff, really professional, and he was always very nice to me. I continued to watch the show – I love watching some of the late night shows to see the music, it's a great way to see live music on TV. So I was honoured to get the call and he made the request for that song and I didn't know why, when they first asked me to do it. I didn't know the story until right before I played.
 Oh, I don't know the story.
Oh, well the story… Right before I started he introduced me but he said when his son was small he would sing a couple of songs to him before going to bed and one of the songs was Stand By Me.
 I've never heard that song sound so serene and trusting. Usually I hear it as kind of yearning but your rendition sounded like it had this assurance that the addressee will stand by you.
Oh! Yeah, yeah. I can see what you mean about that nuance. I've always loved that song. I've played it live on numerous occasions. In a way I think it's one of those perfect songs – it's simple, but it's so emotionally evocative and there's so much economy to it. It's the sort of thing you strive for as a songwriter. So I've always liked it. It's funny, when David Letterman asked for the performance I wondered if he'd seen a version of the song I'd done and I asked him if there was a particular way he wanted me to do it – because they offered a band – or if they wanted to do it solo, and they said just do it however you like. It was kind of short notice and I thought well, why don't we just keep it simple – it's just easy for everyone.
And congratulations on this. When I hear "greatest hits" I tend to think big, flashy pop…
[laughs, gestures at the CD on the table] Tada!
 Right! – As in, those are not words I associate with you. For me, your music has a real quietude. So I wondered if you felt there was anything out of character, just in having a greatest hits record?
In some ways it does and it's interesting you mentioned that because I've sort of been fighting this record for years. The record company has made a request for more than five years for this. Actually, maybe seven years, even, but it just always felt it was too soon. And then also, as you point out, I'm not an artist who's had a lot of top ten hits. I had one, or something. The album charted in various places but not in terms of a single. I'm not a singles artist. And it was actually my idea to call it Greatest Hits – because what else do you call it. There's "Very Best Of" and I hated that idea.
 Tell me why you hated that idea.
Well because then it's like all the rest of the song are not my very best! I remember Joni Mitchell put out a compilation package of "hits and misses"  and there's a photo of her lying in the road as if she's been just run over by a car. So it was very clever. But, you know, that's already been done. So then I was like well maybe let's not try to be too clever with it. And in a way this is not the first – it is not the first compilation record that I've put out – there was one, I don't remember the timing, maybe t was 2000, no that was Telling Stories, but some time around then, there was another one that was only released in Europe. I called that "Collection" and that was my way of getting around this whole thing. It's an "assembly", a "gathering", without qualifying it in any way.
So what made you finally relent?
Uh. Goodness. They wore me down basically! They came to me with a good proposal about how they wanted to approach it. And they also gave me total creative freedom – I was able to choose the songs and the artwork. And I guess I also started to feel… I've made these eight records now and maybe it's a good time for reflection. It's uh… yeah. So I guess the thing I was going to say is once I started working on it I actually enjoyed the process and I loved the end result, I'm so proud of it. It took me on kind of a personal, professional journey that I generally don't make – I don't sit around and listen to my music in my free time – I'm playing new things or thinking about what else I want to do, musically. So it actually was… [falters] obviously I can't even say how it made me feel, but it was a pleasant experience. It one made me feel nostalgia for some of the moments in my career that came to mind as I was working on this and then the main thing that came to mind actually – and it was something I hadn't really considered that much – is that I worked on the remastering with David Kershenbaum and Bernie Grundman and I've worked with both of them in the past but as you probably know David Kershenbaum produced my first record and then the second record and then we worked together again, we also worked on the compilation, the simply called Collection. And he's been in my life for twenty seven years! And he's a lovely man, as well as being incredibly talented in his profession – he's got great ears – we have a friendship, after all this time. And then these photos started to come to light from the early days and I was so surprised to see the ones from the studio, with me and David at the console. And I'm shocked by how happy I look!
 Why are you shocked? Do you remember it as a miserable experience!
I don't, but I don't remember that I was that happy about [it] … I mean I was thrilled to be making my first record, probably nervous, I'm sure… in Los Angeles for the first time and I was here by myself, so… and, you know, I'd never met – I'd met David briefly, I think, in New York before coming out here but everyone else, everything else was new to me.
And you'd had kind of a rough experience before that in terms of producers?
Oh that's right, you've done your homework. Yeah there was someone else who'd been assigned to produce my record from the record company that I was signed to and I just didn't think it was working. It wasn't working for me, I didn't like the way it sounded. And the musicians were great – they'd brought in TM Stevens and Steve Jordan who at that time were both playing in Chrissie Hynde's band, a kind of new version of the Pretenders, so those guys were there, we were all in the Bearsville, New York, at this studio that Albert Grossman used to own. So it was an amazing setting, great musicians but the music felt like it had nothing to do with me.
But it must have taken so much courage and conviction, when you're young and it's your first record to say no – I imagine you were under serious pressure to just do what you were told.
You're right, there was, and I don't know how I found the courage to say, "no, this isn't working." I think I had to say it several times and then finally I think I said look, I just think I'm going to leave, this doesn't feel right – and I feel fortunate that they decided to listen to me and try again. And then you know there was tragedy in the middle, I don't know if you knew, that the next producer who was chosen was Alex Sadkin and he had produced one of the Simply Red records, one that was pretty popular at the time. We'd spoken on the phone and I felt like I got along with him and then he was in a car accident in Jamaica and he died in the car accident. So then we were back to the drawing board again and that was when David's name came up. And I'm not even sure who recommended him, but I liked him right away, we liked each other, I felt he got me, and, you know, the rest is…
Well the rest is this [gestures at record]
Exactly. And twenty seven years later, here we are.
I'm so curious as to what it's like to revisit songs you wrote as a teenager. "Talkin' Bout A Revolution" you wrote when you were sixteen?
Right.
And "Baby Can You Hold Me" at eighteen? – Are you impressed by your teenage self?
Ah, I don't know. It's funny you say these things because I don't think about it… it stuck in my mind that I was only sixteen when I wrote "Talkin' Bout A Revolution" but some of the other songs I don't recall. But I do know that was an early one. But… I… I don't know what to say. I mean I'm glad, obviously, that these songs are standing up over time and obviously my sixteen year old self – and eighteen year old self even – couldn't imagine what course my life would take.
What did you think was going to happen?
At that point in time my plan was to be a veterinarian. [laughs] I have one dog and I sometimes feel like I'm a veterinarian because she's in and out. She was actually attacked by a racoon right when we were working on this. I had to fly down here at five in the morning and at about midnight she was attacked in the backyard and pretty badly injured. And yeah it was horrible. But she's fine now. But, you know, it was vet Tracy. We had to go to the emergency vet clinic. Anyway, I digress!
We were talking about you at eighteen.
Right, so that was my plan. I was studying biology and thinking that was what I was going to do. Things took a different course. I actually started taking classes that lead to a degree in anthropology and then I kept playing. I was just playing while I was in school, street performing and playing clubs and people started to take notice. And then all these things happened. While I was still in school I was getting offers from people in different places to make a record – some of the folk labels in Cambridge, a woman from Argentina, an executive from Warner Music dropped a card in the case while I was street performing one time and then a friend, someone who was a friend while I was in school, a classmate whose father was in the record business and that's how I was eventually signed to Elektra. And then right out of college, instead of – I was thinking, oh I'll go to graduate school and study ethno-musicology and… not find a job when I graduate.
Yeah, that lucrative field of ethno-musicology.
Right! Everyone was asking – where! [are the ethno-musicologists] So, instead of taking that path I ended up becoming a professional musician.
I can't get over "Baby Can I Hold You Tonight" being written by a teenager. What did you know of love at that age!
[laughs] I don't think I knew very much at all! I don't think I know very much now, but…
It sounds so wise!
You know, it's funny you say that… maybe it does. I'm not… goodness, I don't want to say this in a way that offends someone but… I'm a solid person, I believe in the things that I can see but, in some ways, there are times when you feel like you're channelling something in writing, that it's maybe not fully coming from you, but it's through you. I think that maybe sometimes that happens.
Have you always felt you can access that channeling?
I don't think it's something I can control, except in as much as I need to make myself available. I need to respect whatever it is, whatever this force of creativity is that comes through my fingers or down the pen to the page, I just need to make sure that I honour it. And so if something comes to me and I feel inspired then I drop everything else that I'm doing and I follow it. And that's the only thing… I think, well, if I don't do that, that's disrespectful of what I think of as a gift.
Can you recall songs being delivered to you in a certain moment?
Well… I do a lot of reading about the creative process, I read a lot about artists, writers, painters, that sort of thing, trying to understand it, and the thing I've found in what I've read is everyone's process is obviously unique but there are some similarities and something that happens for me – I tend to write in early morning hours or late at night. So I wake up with something in my head or I'm going to sleep and something comes to mind and what I think is happening – I've also started to read things about how the brain functions – is that you end up going in this state of… being less self-conscious and then your mind starts to make these associations that it wouldn't normally make. Instead of having the neurons go the places – "I'm taking this road" – they go off and that stuff seems interesting, it piques my interest and I think well I need to follow that, I need to see where this goes.
So when I think of your music – well, "categories" is a really sterile word to use about it – but I think "love songs" and I think "protest songs". I wonder whether they come from the same place?
Oh yes, absolutely. The source is the same. You're right about the categories – for myself I don't do it but I understand why people do it. It's what we do – classify, categorise, try to find everything. I understand. I never thought of myself in those terms… I… a thing that drives me is my curiosity and I have interests that are wide-ranging and I think I ultimately end up writing about the things that are meaningful to me. So… oh there's a knock at the door. So, I've said this a million times, but I don't see myself as a protest singer, or even an activist necessarily. I'm writing about the things I care about and the things that move me and the things that are meaningful to me. I touch on various subjects from time to time but I see that I tend to go back to the same subjects – like you said, love, some kind of social commentary, questions about religion and the meaning of life.
The real stuff!
Right, the real stuff, the things that keep you up at night and there I am at two, three, four in the morning wrestling with it.
I often get stuck on "All That You Have is Your Soul" and I wonder whether that song – its sentiment – is kind of a lodestar for you?
Yeah I guess it could be. And you're a writer so you probably know this: I love doing this job in part because I get to take on so many different perspectives and there are times when what I'm writing is directly connected to me and my life and my own experience and then there are times when I'm inhabiting a character. And that song's a little bit of both. It's not what my mother told me! – But, you know, it's the kind of thing you might want to hear from your mother, it's the kind of thing you might expect someone like that to say. And I think there's a way in which that song… you know the way it's connected to me – I'm not a religious person, I don't even think I'd call myself spiritual. I did grow up in a family that practised religion – they were Baptist and one of my grandfathers was a minister. And I had to go to Sunday school. And I went to an Episcopalian high school. So religion's always been part of my life but it kind of raises more questions for me than providing answers. So I think that's part of what I end up writing about.
That seems a better way to live. Out of curiosity, rather than delivered truths. So when you mentioned "the real stuff": I'd venture that fame might get in the way of the real stuff. I'm curious as to how you've negotiated that and… oh god I guess "kept it real" is the phrase that I'm unavoidably arriving at.
[laughs] It's so funny you say that because it's a joke I have with some of my friends when I say I'm keeping it real. They're like, you're going to drive yourself? – 'Yeah, I'm keeping it real.' For me it's been essential to have some boundaries. And I think it's important for everyone, more now than ever. There are more people who've chosen to live a life in the spotlight, to seek the limelight and I've never been that kind of person. If anything, this was not the right job for me, you know? [laughs] I've always been kind of shy and on the quiet side. Although, a funny thing… I think in the process of going through archives and looking for material for the greatest hits I also happened to stumble across my elementary school autograph book. Do you have those? At that time, when you graduated you'd have this little book and you'd get all your friends and teachers and family to sign it and you wanted them to, you know, wish you luck on your way. And they'd often tape coins in there and all the pages are multicoloured and get folded. It's a funny thing, I don't think anyone does it any more. But of course there are the silly sayings and the terrible poetry, but these old friends of mine, who I don't know at this point in my life, they were saying such nice things, they kept saying, "to a nice girl." [chuckles in disbelief] And it's so funny because I'd never… I knew I'm not a mean person but I never thought of myself at that time… as oh, she's a nice girl. But, you know, a nice girl like me in a business like this… it's a little bit at odds with my personality sometimes. But for me the balance has been to have moments like this seven year moment that I've taken. I kept saying, 'it's a short break.' A short break that got longer and longer. To take time and just be in the world, be at home, be in one place.
And home is San Francisco?
Yeah
And is it just you and your dog?
Um. That is… I don't go there, you know?
Sure.
I'm trying to… I feel like in a way part of what I do… I don't know. There's a lot there that's me, right? But in order to do that sort of thing I need to keep something for myself.
In terms of the way fame makes people want things from you: have you felt any kind of pressure to respond to the Black Lives Matter movement? Is there a distinction between artist and person when you consider these things?
As a black person in America these last two years are no different than, you know, the last forty nine. Technology has changed and now these acts of abuse are being documented, we have evidence and it's not something anecdotal. But as long as I have been conscious and alive, I myself and every black person I know, has experienced racism at various levels. So, yeah, the conversation's changed, that's what's different. The sad truth is that these acts of abuse have always been going on. And even with a black man in the White House this country is no further along. If anything, I actually think that since President Obama's been in office, the discourse about race has become less civil, it's coarser. People actually feel like they can be overtly racist in a way that they think is acceptable and it shocks me. But I think that it's important that has been revealed. I think there was this idea that a black man in the White House marks the end, that we were now post-racial, right? Madness. And it clearly wasn't. If anything, it really provoked a lot of people to kind of dig in a little bit deeper and feel justified in their ignorance and their incivility. So, you know, one thing that's come up in some of these interviews is people have been saying these songs are still relevant and how do you feel about that. And on the one hand, as a songwriter, you think, ok great, a song that can stand up for a decade or two, that's really something. But in terms of the songs that are about, you know, a desire for social justice and economic justice and racial harmony, to see that things aren't changing, or in fact getting worse in some cases, is so demoralising. It's such a disappointment. I'd rather put this record out and think, oh, can't put Talkin' Bout a Revolution on! Because we don't need it!
Yes, to be like, 'remember when racism was a thing?'
Absolutely! Yeah, we're not there.
It doesn't seem as if much contemporary music is responding to this discourse.
I think you hear it in some rap music. But you know too, that as the music business has declined, the drive or the push to make artists more commercial has increased and so I think in that climate it makes people less willing and less able, if they want to have a career, to express controversial things. So, in that way, I think it's having… And also… that may be part of what's going on.
Do you listen to a lot of contemporary pop?
I do! I do. I don't get everything but I go record shopping regularly and buy a lot of different stuff. I went recently and can't remember what I got. But in terms of pop music, I have Taylor Swift's record, I have Rihanna, Sia, Hozier, The Black Keys. I love music and I'm always interested to hear what's going on.
Tell me a bit more about the record industry's decline, as you see it.
Well it's a curious thing, because music itself has proven to be more important, I think, than some people ever expected. As we've kind of transitioned from this time of a physical format that was predominant to a digital format, you now hear music everywhere. And that's wonderful. But what's happened in the process is that artists are now being compensated less. Record companies as well. And so CD sales are steadily declining every year but the sales, the digital formats, have not matched that decline. And it's a problem overall but it's a much bigger problem for young artists because if you're not established and you don't have an audience that will support you in concert – which, you know, someone like myself or a lot of other artists can do that, then you don't have that many options. You are almost paying to play. You yourself and maybe the record label if they believe in you are going to put money into a career that will never show a return. At least in terms of the sales of records. And that I think is pretty devastating. And I think it's part of an overall problem that's happening where art and the creation of art is being devalued. It's a problem in the world of photography as well, you know, everyone's a photographer now and holds a camera in their hand because it's on your phone and I think then, that the understanding that someone like Herb Ritts was a genius, gets lost. And with that you have a technology that lets you do almost anything that you want with the asset that has value but value that often the artist, the creator, never gets to benefit from. And the thing is if you love what you do then you're most likely going to keep doing it in some way. But everybody needs to eat and have a place to live and take care of their families. Why should we not be compensated.
But it's not even just compensation, it's a respect and valuing.
Yeah, absolutely. This may seem like it contradicts what I was sort of saying earlier – 'it's out of thin air! I don't know where it comes from, this creative force!' – but on the other hand I think I've actually been preparing to do this job for my whole life. I started playing music when I was really young, I started playing guitar when I was eight. They say I was singing as soon as I could talk. I have loved books and poetry and lived in the library as a kid and read everything I could. There was always music in the house and I love all kinds of music – when I was in college I was studying West African drumming and taking ethno-musicology classes and doing these things to educate myself and feed my mind and my soul and I feel like it's all of that that goes into making records and writing songs. And it takes time to develop the skills. You know, as a writer. But I think there's something about the process, especially when it's a solitary one for an artist, that makes people think it requires no effort. And if you have some natural talent that, you know, that's something that's also just not to be valued. So… it obviously worries me, this trend. And I worry for myself to some extent, but I worry more, actually, for all of us. For our cultural life, you know. There's so much that we will miss. There's some people out there who are doing amazing work and we probably won't hear them. I think in this climate, I wouldn't make it.
That was going to be my next question. If a twenty four year old black woman put out a record now with the words, "poor people gonna rise up and take their share." … that's just not going to happen.
Right. I don't think so. No. No. And then I think, even for the moment when I came into the business, there was a confluence of events that lead to people hearing my music and deciding to embrace it. had I never taken the stage at the Nelson Mandela concert I'm not sure… you know?
Remind me which artist it was whose faulty equipment we have to thank?
It was Stevie Wonder. Nothing to do with me.
[Laughs] You didn't sabotage it deliberately?
I did not. I love Stevie Wonder!
That was an amazing moment.
Yeah, and then that lead to being on the Amnesty International Tour. And also, ultimately, it's the fact that I have international audience that my career has been sustained over the years, because America's been fickle for me.
Really?
Yeah, I mean the first record did really well here, the second record not so well. New Beginning did well here, but my European audience and my fans, they have supported me throughout – France, Germany, the UK – it's really been remarkable. I'm like a rockstar over there but I'm not here. But I am over there.
Well at least you're a rockstar somewhere. What is it like for you to be recognised?
These days it's mostly ok. The thing that's changed though – and this is another one of those technological changes – no one wants autographs any more, everyone wants selfies. I… I'm not a selfie fan. I don't love having my picture taken anyway so it's a little challenging. I don't want to hurt people's feelings either. I mean I think I understand why it's so popular… [laughs] maybe I don't. It's not something I do and as you've probably realised, I'm not on any social media.
Have you come under pressure from your label to be on social media?
They have made several requests. [laughs]
And you've politely declined?
Yes, yes.
So how do you negotiate those selfie requests?
There are times when I'll do it but there are times when I'll just politely decline and most people are understanding. It's a strange new phenomenon though.
Yes, it seems like fame now entails an even greater visibility.
Right. I mean maybe it's because it's sort of open to everyone now which is funny in a way because you'd think well, democratising fame is a good thing, right?
Maybe!
Or not.
I think meritocrising fame would be even better than democratising.
Oh, yeah yeah. That's certainly fallen by the wayside.
Do you feel bewildered by instances of fame: very young artists suddenly having millions of YouTube views and being signed?
I think I'm not always aware of that sort of thing because I'm not on social media. I read newspapers and I watch the news and I listen to the radio and I talk to my friends who are on social media so I come into contact with these things from time to time. I mean… I guess I'm not really shocked by it because the culture here and maybe elsewhere too has been trending that way. That there's this… not even opportunity, I'd say it's a demand – people are required to make these postings about their lives on a regular basis. And if they don't it's… it almost seems like it's this new form of peer pressure and maybe there's some social shaming that happens if you are not in the flow of that and that seems unfortunate. I mean there are so many things that are baffling about it to me because one if you are constantly posting about what you're doing, then really what you're doing is constantly posting about something that you're probably only halfway doing. I was just joking with Matthew earlier, about making some silly film about someone who's constantly updating – like, they're on a water ski, you know, and they've got one hand and of course they fly off the back. Or they're swimming with sharks.
You joke but Harpers magazine just ran a list of death by selfies!
Oh right right, like falling off the mountain because you're trying to get the right angle. Yeah, so I guess it's not that funny, it's tragic actually. But it's like, what does that do to the quality of life. And what does it mean. As an artist, I need time of repose. I need those moments when I'm doing nothing. I think it's a way to clear the mind and you know, feel settled, if that's what helps to gather your thoughts. And it seems like the way in which some of the social media apps require your attention – they don't give you time for that. And then also… you're not… you have no privacy. And I think it's something people aren't focusing on right now and they will at some point and when they figure out what they've done they'll be horrified. You know, that they're trusting their lives to these multi-national corporations. The most important moments – the birth of your children and weddings and birthdays.
Moments that used to be private.
Right.
I read this horrifying thing – I mean I hope it's one of those made-up trends rather than an actual trend – but of people taking selfies after sex.
No. Good god. I'm speechless.
I feel so bad I told you that. Ok quick let's move on to something more edifying. You used the phrase feeding your soul – other than moments of repose and privacy, tell me how you replenish yourself.
Books for sure, I read all the time, I read all kinds of things. I read a lot of non-fiction actually. In the time on my short break [laughs] I had some goals in mind, being in one place and one of my goals was to become a regular at a restaurant to the point where they knew what I wanted to order before I even said anything. And I feel that I've been successful in that.
May I be nosy and ask what your order is.
Well, there's one breakfast place which unfortunately is going to close very soon – it's just a simple diner – and I'd get orange juice, tea, scrambled eggs with mushrooms and wheat toast. And all I'd ever have to do is walk through the door.
That's a solid order. Do you know the British artists Gilbert and George? There's a restaurant that they go to in East London every single night. Maybe someone should make a book of artists and their regular orders.
Right, right. I'd read it.
So you achieved that goal.
Yes I did. And also I wanted to be more engaged with the art and cultural life of San Francisco so in that time, I'm a member of the San Francisco International Film festival so I've been attending that for, I don't know, four or five years now, and I think we've already talked about this but I had a commission to write music for a play, for ACT Theater in San Francisco, it's an Athol Fugard play called Blood Knot. And in doing that… I guess it was in the stage when they were making the request, they just started sending me tickets to everything, so I started going to plays on a regular basis and I loved it. I did go to plays when I was a kid in high school – there was some donor at the school who'd give tickets to Broadway shows so they'd put us on a bus. I saw Six Degrees of Separation and a few other things, so it's something I've always liked but it's not something I had time to do when I'm flying around touring. And so I've done that on a regular basis. And then San Francisco's got some great museums so I regularly go to openings. And then there's a lecture series in the city that's been going for more than thirty years called City Arts and Lectures and I've attended so much that I'm sort of an honorary… I have some sort of title that means no money and mostly no recognition but… it means I get to hang out backstage. And the series is incredible, they bring in writers and politicians and scientists. Recently they had Ta-Nehisi Coates. I did, I did. When I met him I said I appreciate your book and I chose those words because I couldn't say "liked" because it was so… it was painful to read; there's so much truth in there. And even though it's a short book I had to read it in doses. And he actually said as much on stage that night. That was a really incredible talk. Richard Dawkins, Margaret Atwood… so I've been going to those kinds of events and I find it fascinating. I love being a part of this… this art and culture community in my city.