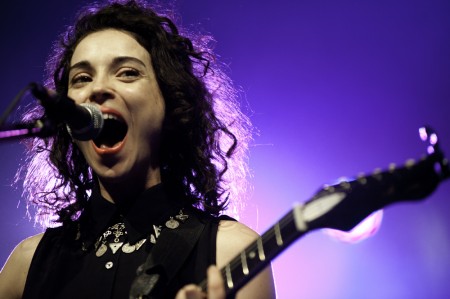 Back in November Jenessa Williams, a music journalism student at the University of Huddersfield, interviewed me for her thesis on gender. It was so good to talk about these things. And I realise these sorts of things make me swear a lot. She kindly sent me the transcript of our conversation.
How did you first get into music journalism?
I guess it began at university. In my first year I was doing a lot of student drama, just because lots of the people I was around at the time were doing it too, so I was kind of swept up in it. I realized I wasn't very good and by the end of my second year I started getting involved in Varsity [Cambridge University's student paper]. I had that sense of, oh, these are my people. It's so cheesy, but I just felt really galvanized and excited. I felt like I was surrounded by people who were a lot smarter than me, a lot more ambitious than me, a lot more talented than me, and that's invaluable. It spurs you on and makes you pull yourself up. I actually started doing theatre journalism –  I didn't do so much music stuff to start with, I think because I felt like you had to know everything and have an encyclopedic knowledge of rock and pop to write anything. And of course that's unobtainable. I mean, I do know people who seem to have it, but it's one of those things that builds up over years and it's only one part of being a good critic. I think you have an obligation to be as informed as you possibly can be, but being a good critic goes across genres. It's about being thoughtful and interrogating the material. But anyway, I was listening to more music than I ever had – I think a lot of people at university experience this when there's so many people telling you about bands and exciting new music, it's how a lot of those relationships form, people bond over music. I just got more and more into it, I just wanted to fit it all together to know what sound came from where and how everything informed everything else. I remember there was this book that the magazine The Wire put out called 'Undercurrents: The Wiring of Modern Music', which I read when I was maybe 21, 22, and that was so thrilling to me, to read writing about music that was that intelligent, going in so deep.
It's really interesting actually to hear somebody coming about it from the academic approach straight away, because lots of people I know kind of got into music journalism just on a very basic level of "I like music, I like writing, lets put the two together."
Oh I don't want to sound like a knob, I wouldn't claim that I was going about it academically! – As well as poncy shit by The Wire  I was reading newspaper music journalism and Pitchfork, like everyone else. But yeah, this is one of the things that excites me about music, you can intellectualize it but at the same time it's just sound. It's completely valid to just treat it as something to dance to. I love listening to and writing about pop.
What is your favourite type of music to write about? Are there any particular genres or specific bands that appeal to you?
I'm interested in interesting music, and that can be anything. One thing I've thought about a lot over the past year or so is the pleasure of writing about music that I don't find sonically interesting…like Lady Gaga, for example, her music doesn't do anything for me but I'm fascinated by the cultural phenomena that surround her, or surrounded her. I find that sort of thing interesting in terms of figuring out what we are investing in these figures and what they are reflecting back to us. I end of writing a lot about quite mainstream pop for the Observer, but I think my tastes are becoming weirder. I've been listening to this cult Australian band called The Necks, I listen to William Basinski all the time, he's my absolute favourite. Recently, I've been on a Mulatu Astatke bender. He pioneered Ethio-jazz, I found him through Nicolas Jaar who's one of my favourite current musicians. But the stuff I like to write about…it's sometimes easier to write about stuff you have less emotional investment in. I think I would find it impossible to write about William Basinski, for example, because I'm so floored by it. It's kind of beyond intellectualization or putting into words. But I loved writing about Miley Cyrus because she's fascinating. I am a Miley Cyrus fan, it's not like a condescending peering down my monocle fascination, I love her. But just not in the same way as William Basinski.
What is it about Miley Cyrus that you like?
Well in part it's sort of the cultural thing, but she has also just has fucking great tunes. I think the video for We Can't Stop is extraordinary, one of the best videos of the year. The thing about Miley for me is that she just looks like she is having more fun that anyone else. There is something very real and compelling about her sexuality that I think is glorious. I just think she's amazing.
That's very refreshing to hear when the news media is very much taking the approach of  "Miley please put some clothes on."
I can talk about this for a long time so please shut me up at some point, but that pissed me off so much. The furore over Miley Cyrus naked on a wrecking ball just summarises the fuckedup-ness of particularly British but also American cultural standards, that toxic mix of prurience and prudishness. That whole argument was predicated on this incredibly insidious belief that sexuality is inherently compromising for women, and on some levels even shameful, which is an incredibly sexist attitude. It's one promulgated by women too, which you can see in that pseudo-motherly approach by Sinead O'Connor. Its infuriating. I don't think Miley's responses about mental illness were cool, but I can understand her being really fucked off, because it's this refusal to grant a young woman sexual agency. Wherever you go, people are frightened by female sexuality; it's the same old thing.  People can't cope with the idea that a very young woman might want to be naked on a wrecking ball and enjoy it. That might have been her decision. I'm sure its still the case that lots of women working on major labels and particularly in mainstream pop are coerced into shedding clothes, but it still infuriates me that we are denying these people agency, I can't stand it. I've never watched a One Direction video so I don't know if they get shirtless, but nobody would fret if Harry Styles took his clothes off. It just perpetuates the idea that men dictate and control sexiness, that it is something women have to be careful of and worry about. It perpetuates the victimization narrative – Miley is not a victim.
The Miley Cyrus example is a really good one for this – do you think maybe female journalists are making this whole sexism issue worse? Because most of the articles I've read that are particularly outraged by her do seem to be written by women who want to criticize other women for being "bad" feminists.
I find that whole judging other women's feminism really wearisome. It does not help us. Let's just stop doing that. I can understand there being a lot of women writing with passion and fury because stuff is fucked up – I'm not denying how problematic double standards and all those things are in music and pop are – but if I start calling out women on calling out Miley Cyrus, we're in a vicious cycle of not quite slut-shaming, but feminist-credential-policing. Which is so stupid. I just read an Ellen Willis line about that – the way in which an oppressed group are made to turn on each other. Here's the line: "To realise other women are not the enemy. To understand as a gut reality the phenomenon of rulers setting the ruled against each other."
Based on your own experiences working for quite a few different publications, what do you make of the assertion that there are less women than men in music journalism, do you think this holds true?
I don't know the numbers, but no, I feel like it's not true. It's far, far more problematic in literary journalism – I don't know if you've heard of this organization called VIDA, they go through literary publications and tally the male bylines versus female and it's incredibly depressing, you'd think that half of the population with double X chromosomes were illiterate. So often I scan down the New Yorker, or the New York Review of Books content page and go, "dude, dude, dude, dude, dude, dude, woman, dude, dude, dude, dude." But for music journalism…I feel as though it was the case in the 70s and 80s, maybe even the 90s, but now I don't think it is. The Observer's music critic is female – the wonderful Kitty Empire who I was privileged to work with – and I can name all sorts of prominent women in British music journalism, probably people you've been speaking to – Laura Snapes and Lucy Jones, they're both great. And here in the US, Jessica Hopper, Sara Marcus, Amanda Petrusich, Lindsay Zoladz, Carrie Battan, Emilie Friedlander. So I don't think it is true. I think hip hop is an interesting area. It's interesting to me because hip hop in the US is a much stronger cultural force than it is in the UK. But then I do read women who write about hip hop – Ayesha Siddiqi, for example, who's written great things about Kanye, she's incredibly astute about the intersections of race and gender and pop culture.
I'm wondering if that assertion has come from the way that men and women talk about music. I'm so wary about making gendered statements because it bothers me how gendered our culture is, but it does seem to me, based on a non-scientific, non-sociological study of my personal experience, that when men talk about music, it's about how much they know, it's a oneupmanship. This is the same as when you see men bantering with each other, it's a trying to out-do each other. By contrast, women seek consensus and are genuinely more interested in what each other think. It's only in the last couple of years that male friends of mine have actually started asking me what I think of music, rather than just telling me what they think. And in fact, here's a little anecdote. I ran into a friend's ex-boyfriend at my yoga studio. I'd only met him once or twice. As we were on and off chatting I got an email through asking me to review the Jay Z record that day so I made my excuses and explained that I had an editor asking me about the Jay Z album. And then! : This guy just starts mansplaining Jay Z to me. It was extraordinary. He's not a music journalist, he doesn't work in music, he doesn't make music, he doesn't write about music. He was trying to educate me about Jay Z. I thought, this is amazing. And then I just kind of mentally wrote him off as a human.
That's interesting because that sort of thing happens to me a lot. Like you'll be sat talking about the albums of the year, and you'll say something like "Arctic Monkeys was my favourite album" and the guy will turn to you and say "I liked them so much better when they were recording with so and so and making guitar sounds like this" and it's a little odd.
Oh shit, it's all coming out now; you're reminding me of another incident. This was when I was with my ex-boyfriend and we had friends round, these two guys my age who I really love. They're journalists who write about music, and they were talking about the Solange song "Losing You" and the Sky Ferreira song "Everything is Embarrassing" and one of them says "oh, they kind of sound the same don't they." I point out that that's because they're both produced by Dev Hynes, and they just don't hear me. I say it again and they don't hear me, but then two minutes later one of them goes "Oh, it's because it's produced by Dev Hynes" and then they all chat about that. Do you remember that Smack The Pony sketch at the board meeting where a woman says something and no-one hears until a man repeats it? It's basically that. It is kind of funny, but oh my god it's also infuriating.
Especially when – not that you're trying to lord yourself over anyone – but you're the professional.
Exactly. It can be hard to get heard.
Do you think there are any aspects of music journalism as a career that would seem off-putting to women? Lots of the academic research suggests that some venues are unappealing to young women in their inherent manliness.
That's interesting. I mean, I love being in a big sweaty roiling crowd with my ears hurting, I don't think that's necessarily a gendered thing. But I have had so many experiences of being at concerts and shows where I realise shit, there's only like three women in the room. I remember seeing Battles in LA and I genuinely couldn't see another woman there. Which is crazy. So many times at 285 Kent I've been there at 1am in the morning and looked round to realise it was about 90% dudes. I don't know why that is, I can't work it out.
Lots of the books pointed out that it's sometimes a parental influence on young girls – parents not wanting them to stay out late, and rock gigs traditionally don't finish any earlier than 11.
Oh, interesting. I was very lucky in that I have ridiculously, wonderfully liberal parents, who didn't mind whatever I did, they were kind of pro-sex and drugs and rock n roll really.
Have you ever experienced any other instances of sexism in the workplace or felt as if your gender has affected the kind of stories you've been assigned?
I think the professional sexism I've experienced has mostly been outside the workplace, and it's all been a kind of unthinking, insidious sexism from friends, like we spoke about earlier. I've been lucky to work at a very liberal and enlightened newspaper that I really love – I think there are at least as many women working at the Guardian and the Observer as there are men. I don't think I've ever experienced sexism at work, I always felt like I'm in a really great place when it comes to that sort of thing. People are just aware of it there, it's a constant awareness. Before that though I worked at a current affairs start-up website, and there were a few young men who came on board at the same time, they were a little younger, I had more experience and was better educated, and yet there was just this weird assumption that I was going to be the office manager and order paper and make tea whilst they did the interesting editorial work. That was crazy to me – all because I was wearing a dress and they weren't. I also think there is this other slightly dodgy thing of young women being pushed towards the first person confessional piece with photos of them looking pretty and sorry for themselves – those "my anorexia hell" or "my miscarriage hell', and young men just aren't. That wasn't the kind of journalism I wanted to do and I had to resist that a little bit.
Do you think gender affects the commissioning process?
Perhaps only in that I tend to be more interested in interviewing women than men.
That's interesting, I spoke to Lucy O'Brien and she mentioned that she often prefers interviewing female musicians because she feels as if it's easier to strike up a friendship and a rapport faster.
I definitely approach every interview differently, because every person is different. But I do think gender does come into it. One thing I've noticed particularly with interviewing bands where all the members are male, I kind of feel like a beneficiary of low-level sexism because there is this kind of subconscious assumption that I'm less of a threat, that I'm not going to grill them. So I do feel like I have got more out of male musicians than my male equivalent might have. It goes back to what I was saying before about men and the way they communicate by point-scoring and showing their knowledge. I think they feel a little less on guard [with a woman], the whole thing feels a little less confrontational. They relax.
Have you ever had any bands be particularly difficult with you because of your gender? To give you an example, I once did an interview with a band, turned up and they said "we expected you to be a guy"…
No way! That's extraordinary. And were they dicks to you?
Yeah a little. I can't say for sure that that was because I was a girl or whether they were just difficult or even whether it was because I was a student journalist writing for the uni paper and they thought I was a little beneath them, but it wasn't the most pleasant of experiences.
That's rough. I don't think I have. I actually feel like being a woman puts me at an advantage when interviewing. Again, this is such a gendered statement, I keep making them… but I tend to think women make better interviewers than men.
Do you think this is just because of that more personal approach as opposed to the geeky ones?
Well I think women are better at reading people and picking up on non-linguistic cues. There's that sexist and very facetious line of "all men being autistic" which is just ridiculous and also fairly offensive to people who are autistic, but, I know where that comes from. I think women are probably better at listening.
It's good that you're sharing your honest opinion with me, because I was wary when setting this case study up that people might be a bit reticent and prefer to tell me what they think the politically correct answer is. Do you think that UK press accurately represents male and female musicians in equal footing?
I think there is still this pseudo-feministic tendency when it comes to female musicians, when people think they're being right-on by saying "look, she plays her own guitar!" or some bullshit like that. They think that's constructive. Last year when Rolling Stone had their Women in Rock feature which made me fucking cringe, a Seattle weekly called The Stranger ran this piece called "Men Who Rock" which was brilliant and hilarious and threw into light all these clichés that journalists use when writing about female musicians. And it's not just musicians, it's everything. A friend of mine was posting lines from Doris Lessing's obituary and saying can you imagine this being written about a man? – Lines like "as a woman, she pursued her own desires." Ugh. So I find that really tiresome, I wish we could just get over it. People play music, and those people are men and they are women. In terms of "would I bring the artist's sex into discussion" I think if it's something that the band or musician is overtly performing and are visibly conscious of, then it is absolutely worth mentioning. But fetishing female drummers and people thinking they're being right-on by doing that, no you're not, get over it. I'm delighted that women are making music, but just because a band has a female drummer doesn't make them cool and it's not necessarily worth mentioning. I saw Savages play recently and their support act was this woman who performs under the name No Bra. She performs topless. And that's totally worth mentioning, because she is obviously very aware of her gender and what it means. If you're making a statement like that, it's worth talking about.
Do you think the music press, the way that it's written, appeals to both men and women? I know growing up, I started reading NME when I was 13 and it sometimes did seem to be a little bit male in its references to boozing and drugs and such.
Yeah, I was just reading Vice actually and there was this line about a book party saying "go! there'll be loads of hot literary chicks" and I was like woah, you're assuming that your entire readership is straight and male. I know it's a small thing, and Vice would claim they're knowingly mocking brohemia or whatever, but it's a fucked up thing.
Even in this country, Q, NME, Kerrang, still I find that if you buy them in a supermarket, in lots of places they're still filed under 'men's interest', next to Nuts, FHM, Zoo, all of the lads mags.  
That's extraordinary. That's a huge problem, I didn't know about that. I kind of want to write about that now…
They've stopped doing it in WH Smiths now, it has a 'Music' section which is still next to Men's interest.
That's infuriating.
It sounds kind of obvious, but it is interesting to hear that you don't feel as if you're there to purely inform people, you want to entertain them as well.
Yes! – this is criticism not a lecture – I'm not providing someone with information with which to write an essay. I think it was different forty years ago, pre-Wikipedia and everything, when you did have to spell out a little who people were and what they were doing. I see my job as having to think as hard as I can about a thing and then turn that into something that is honest and a pleasure to read. Criticism is unavoidably personal. Well, actually all writing is. I feel this with interviews as well: you're constantly told to remove yourself, but I think there's a disingenuousness to that because every interaction is about both people involved. The other person becomes themself through you, and they become a different themself through someone else. I think over the last few years, I have been allowing myself to creep into pieces a little bit more for that reason.
Do you think the music press has a responsibility to make sure that they are employing both genders? Or do you think that risks tokenism?
I think every workplace has that responsibility, I don't think its tokenism! It would only be tokenism if women were empirically shitter than men.
This is a bit of a personal question not knowing your age or life plan, but were you to consider parenting or starting a family, what impact do you think this would have on your journalistic career and getting back into the world?
Well, I'm 29. It's a huge question; it's more abstract that the pure practicalities of it, it's about fulfillment. My own time is so precious to me and I adore being freelance for that reason.
Would you not go back to 9 to 5 office work now?
No, never. I couldn't do it. I mean, I loved doing it then but now I feel like it's no way to live. Again, this might sound pretentious, but I think as a critic you have an obligation to be reading and listening all the time, it's your job. When I'm reviewing an album or a book, its not just that thing I should be considering, I should be engaged in a much bigger thing in culture, listening and reading all the time. And if you have a 9 to 5, or a kid that's really hard to do. And I would hate to give that up.
Do you think being a woman there is a conflict of interest when it comes to reporting on music that is particularly feminist, sexist or sexually charged? Miley Cyrus is a good example, and Robin Thicke's Blurred Lines as well, lots of the journalists upset about it are women, and most of the men are commenting on it musically and how catchy it is. Do you think it's hard to detach yourself from it?
One of the reasons I love writing about music is that it's porous, it takes in everything. When you're thinking about music, particularly when it's pop, it takes in art and fashion and politics and everything. So, writing about how questionable something is in its gender politics is just as valid as writing about what a banging tune it is. They can co-exist. People with despicable politics can make amazing art, and it's fine to appreciate that and at the same time call them out on it. I found this with Odd Future, I found them really fun in this adolescent, puerile way, but all those lyrics about rape were just unconscionable. It's okay to feel those two things.
Do you feel any moral obligation as a woman to point out misogyny and whistleblow sexism?
I absolutely do. But I think it's a moral obligation as a human, not just as a woman. Similarly if stuff is racist or homophobic – I'm not black or gay but as a human I consider it my responsibility to call people out on it. Whether it's in their art or in their behaviour.
Would you be comfortable in calling yourself a feminist?
I would be desperately uncomfortable with not calling myself a feminist! I think anybody who rejects that term, male or female, is a cretin. I just do not understand that. The British journalist Rebecca West, I think she died in the 1980s, but she had this wonderful phrase – "feminism is the radical notion that women are people too." That's it, it's as simple as that. I just don't understand a tentativeness over identifying with that term. It's like asking 'Do you consider yourself a non-racist? A non-homophobe?' What kind of person is going to pussyfoot over that? Racists and homophobes!
Why do you think there is this stigma?
Because we live in a sexist society. It's still patriarchal and I think there is a fear of female power and agency.  For uneducated men, a woman calling herself a feminist is frightening. I think it's frightening and depressing and wearying that it's still a question. You see it a lot in interviews, where the journalist asks the woman, never the man, incidentally, whether they're a feminist and they um and aah over it like it's a tricky, delicate thing. My friend Sarah wrote this great piece called "Is Taylor Swift A Feminist?" for the New Inquiry. It's just a list of names, basically – "is Taylor Swift a feminist, is Hillary Clinton a feminist, is Bill Clinton a feminist" and so on and each question is a link to a piece that asks that question. It's an absurd piece to meet the absurdity of the ubiquity of that question. I feel like I've been a bit blasé or facetious about gender politics, so let me stress I am fully aware of how fucked up shit is. Rape convictions, the prevalence of domestic violence, the pay gap, all this stuff. A friend of mine, a male friend in fact, said recently, "feminism isn't Miley and Beyonce: it's cleaners and nurses." Which I think is so fucking true: we spend a lot of time worrying about famous women's bottoms, but our priorities are fucked – the socio-economic injustices are way, way, way more pressing. And also, you know, I get the rage about street harrassment or whatever, but then remind myself that in other parts of the world women are stoned to death for getting raped. So…perspective.
What do you think it will take to get there?
I don't know. I think policy and representation can change, but the more insidious, attitudinal things are harder to change. I'm ashamed to say I can't even read about reproductive rights in this country because I feel like I'm in The Handmaid's Tale or something. It just makes me crazy with fury and disbelief, so I don't engage with it because I can't handle it. But I am really grateful that bolder woman I know do – Irin Carmon and Hadley Freeman for example.