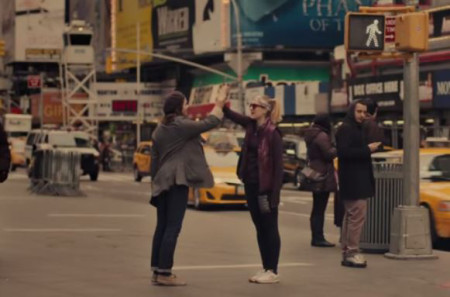 My profile of Noah Baumbach is in the Sunday Times Culture section today. Because I'd be nosey too, and because he had a lot to say, I'm posting the transcript here. Proper Times interview here! But here's our conversation. We're in a soundproof and very dim little screening room.
NB: Good sound in here.
HH: Yes, nice and dead. Your assistant mentioned you're working on a documentary?
I mean, yes, it will fall in the documentary category but it's about Brian de Palma and it's really a conversation with Brian that goes throughout his whole career.
Sounds good. So, I really loved this film.
Oh good.
One of my favourite moments is when Brooke makes her big cinematic welcome on the steps of Times Square and then takes ages to make her way down the steps: that bathos seems to set up her whole character.
Right. I mean, yeah, the real answer is it just seemed like a funny introduction to someone. I guess now if I was going to think about it… I guess it does say a lot about her in that way, in that it's also her fantasy of how this might go versus how this actually goes. And… in real life there are always too many steps.
And they have to be taken so slowly.
Right, right.
That dissonance between someone's creation of themself and their reality reminded me of something Greta said about Frances as a character, which is, "Maybe she has some idea of how she thinks the world should work which people make fun of, even she knows is ridiculous, but in the end kind of happens for her." That seems almost the opposite of Brooke. 
Right. I mean… it wasn't… I guess it wasn't really something we talked that expressly about, but of course, the reasons you decide to write about certain characters or certain characters are appealing to you when you then start to analyse it later you realise oh, probably because I'm interested in this and this. And I also think Brooke's story is, in its own way, about coming down to earth. I mean Brooke at the end of the movie is sort of facing her reality in a way that she wasn't before, which is similar, under very different circumstances and with a very different character, but is not dissimilar to where Frances ends up. What we always talked about with Frances was that by accepting compromise you actually… certain dreams can also come true. And I think with this one, I feel that she… what makes her so angry at Tracey for writing this and showing her this way is that… but I think in a way it's freeing for her, ultimately, because Tracey still loves her, even though she sees through her. And I think that's important for Brooke. And also what's kind of beautiful about that relationship. And I think that's where we find her at the end, she's searching, but in a way she needs to start searching. Being adrift, or at least more consciously adrift, for Brooke is progress.
It occurred to me that the moment Brooke wants is very cinematic and Frances Ha has lots of  those moments – of her running and dancing. Were you conscious to avoid that kind of visual lyricism in this one?
Yeah. I mean, I guess it is… the filmic approach to Mistress and to Brooke's character was certainly consciously different to how it was with Frances. And because Frances was in black and white – just because we see it much more rarely now, you can't help but evoke movies, photography, because it is, by definition, photographic, because it's not how we see the world. So once you're in colour, you're kind of like every other movie. And so in a way Frances leant itself to taking that and doing the "Modern Love" sequence. But I also think the shift the movie takes when we go to Mamie Claire's and the screwball elements that enter into it are kind of cinematic in their own way. And heightened. So in a way the movie had its own flexibility, its own way of taking on a kind of movie…
-ness?
-ness, yeah, and also, more so than Frances, we started thinking about the story of Frances was very much grounded in the personal and the character and being in New York City while also knowing of course that the photography was going to elevate it and turn it into this other thing. I think with this one Brooke always seemed larger than life from the beginning so the way we talked about the character and the movie was in terms of movies, it was heightened in that way. There were  conversations about those kinds of movies where everybody gets in the car and leaves the city. Or those movies where you meet somebody and they take you into another world.
You had this great phrase for that latter subgenre: "squares being batted around by less squares." Does that ever happen in your own life, you find yourself batted around by less-squares?
[laughs] I don't know. I guess I've had nights where things… you end up somewhere you didn't expect. But… I think it's more… I was thinking of it more in terms of a certain kind of movie, it's almost like a subgenre, I'm not even sure it's a genre. And it may only be a genre if you find the five movies that it is.
Three's a trend.
Yeah, yeah. But it seemed right for Brooke. And for me I think it goes into this thing of taking people out of their comfort zone, or out of their familiar, which a lot of my movies have. Their routines being disrupted in some way.
From what I understand Brooke was originally going to be a bit-character.
A bit character in a different script so it wasn't this movie at all.
I find, in my own relationship, that we have almost in-jokes of characters. And from what I've read, it almost sounds as though Brooke was that for you and Greta? So did you have any sense of woh, we made a movie out of something that began as a private joke?
Right. Well there is something about wow, we actually made this movie to fit this character. Probably more so than any movie I've done – I didn't see this one coming. Generally, I have things that kind of circulate in my head that at some point crystallise and find their way into the script I'm writing. But they tend to feel like things that I've been making in my head for some time and now I'm finally figuring it out. Whereas Mistress really did feel like, you know, let's just see where this takes us – we have this character, what movie would be this character, and we started talking about those other kinds of movies we like and those experiences with people when you're young that you look up to and they seem kind of incredible but as you start to gain some perspective they maybe start to seem…. there's more melancholy there. And, you know, oh they drink a little too much or whatever – you start to see things. And you kind of outgrow them even though they're older than you. And I think that kind of story… that may be more a thing that came from observation but it really then started going from there. The second half, particularly, I think we wrote… – I don't know, we wrote so many different versions of the story, we really didn't know where it was going. And so when we finished the script and then made it soon after that, it really did feel like, where did this movie come from. [laughs]
 That feeling of not knowing where it's going – is that less scary when you're in a writing partnership?
Yeah, probably, yeah. Because you have each other to say, 'is this ridiculous?' But. I mean, it's true of everything – even if I'd had the idea of couples, like we did with While We're Young, even still, once I'm writing it I feel like I don't know where this is going… you're still writing, in some ways, without any kind of road map. But these weren't even ideas – at least that I was conscious of.
With every movie you make do you feel less fear of not having a road map? As in, do you have more faith in yourself as a writer?
Yes and no. I mean, yes, in the bigger ways,  No, in the – every day I sit down to write. Because they all start with nothing, so, you know, that always feels like this is impossible. I mean I'll convince myself on any given day that it is. You just have to get through those moments and get to the next thing. That's easier with a partner. But even those days, when you're like "what are we doing? This is kind of ridiculous." But in the bigger way, at least I can tell myself, "I seem to have gone through this all on the last one."
Is it true that the closet scene took 55 takes?
I guess so. I guess it was 55 or 57. Was it in the New Yorker piece?
I read it on IMDB.
Right, so it's probably unattributed. [Sighs] yeah, that did.
 Can you say why?
Well, to be fair, that is a lot of takes, to be fair, maybe that's a four-page scene in one shot? In some ways, it's relatively simple. The camera doesn't move that much, but there was a lot of choreography in it, and there's a lot of dialogue that had to be nailed, and, Lola is in the closet, and Greta's going in and out of camera. And Greta really has to run, because Lola is really just reacting and also off camera for most of the thing and she's telling a lot of the story of her grudge, this is the big indignity in her life, and also what is going to take us forward, so we kind of have to remember some of this. So there was a lot that had to be done in that scene. It was a day where, we were going to have to shoot a lot of takes anyway, but on that particular day it just took more.
You and Greta made Frances Ha as you were falling in love. How different is it to make a film once you're in a relationship, past the falling stage?
Do you mean the difference in being together and making the movie, as we were on Mistress, or do you mean just in general like the line between making something together and being in a relationship?
Oh, I meant the former, but obviously curious about the latter too, now that you mention it.
With Frances, when we were writing it, we weren't in the same place, really. So there was a lot of emails, and getting on the phone and talking through what needed to be done. And it was over a fairly long period of time, just because we were doing other things. With Mistress, we had a window, we had talked about the script and had some of it, but we really had a window before I was going to make While We're Young, so we discussed how we could actually try to squeeze another movie in, but we weren't going to fully finish it, but we were going to start making it. In some ways we set a deadline for ourselves, and we really wrote the thing fairly quickly, but in that case it was really useful to be in the same apartment. We could just get up and do it and work. And in those cases you do have to draw some kind of line. But when you are working on it, and engaged in it, it works it's way into everything. You start working on it, then you forget about it, then something else will happen, that would be good for that. It's its own challenge because we were some ways, in our minds, we were making a kind of movie that we felt we would like at different points in our lives. Whatever that subgenre is. I don't even know if the final product feels like those movies at all. It might not, and that's fine, but I think for us it just felt like, it felt like the 80s to me, which also to me felt like my adolescence.
 Did either of you kind of have to take the role of shutting it down, in terms of, you know,  being at dinner together and needing a break from talking about it.
When we were in the midst of it, there really wasn't any "shutting it down." I think at that point, any idea at any point of the day is welcome. Maybe she feels differently, but I felt like it was all-encompassing at that point.
 I read that Frances Ha began because you kind of casually asked Greta  if she had any writing ideas and so began this email correspondence. Is there something about email that's particularly conducive to people trying to impress each other?
I didn't really think that until you just said, but maybe there is something to that. I always felt like she would send me things, and I would think they were so great, and I would then, in that way, I guess, if you write a good email you want to write a good email back. It's hard to write four words back, or one word or phrase: "see you on Friday!" It certainly made me want to send her the best version of what I thought the scene could be. In that way, probably.
 Do you still feel like you want to impress her?
Yeah, in all ways, including things that we do together. When I first show her a draft of what I've written, or the first cut of While We Were Young, I want her to love it, of course.
 Are you honest with each other when you don't like something? What are your mutual rules of tact?
I think, I mean, obviously we like what the other one does, so it all comes under that. I've always thought "oh this is terrific." I never worry about "well, this is gonna sound negative," because it's always about how good it is. I think it feels that way when she's responded to my things. I think if I've shown her something that I know needs a lot of work, I'm expecting her to agree any ay.
 So there's this media narrative that you began your career sort melancholic, and are becoming increasingly lighter with each film, and, in terms of your creative and romantic partnership, it's dark and thoughtful and cerebral you meets light and spontaneous Greta. I imagine it's more nuanced than that, but is there any truth to that?
I'm probably the wrong person to ask about that. In terms of the trajectory the movies have taken, I feel like these are all aspects of what I find true human behavior, true human relationships, and the stuff of movies, you know, movies that I'm interested in making. With the sampling we have, with the way things have gone, maybe we've felt more darker shades than others. You go into not knowing what these things are going to be exactly, you have a feeling about it, or a thing that you know about the movie, and you don't know about the movie at the same time, and all of these movies are inside me, the process of each one is expelling this, you've become infected with this thing, and you have to get it out.
 Sounds a bit The Exorcist.
It is in a way. So where it goes, I feel like there could, in the future, these lighter and darker shades will continue to live side by side.
Do you think it's harder though, to give a more light-hearted movie the same freight as a movie like The Squid and the Whale, which obviously has hilarious moments, but is essentially full of pain. As in, I feel material that's instantly classifiable as "dark" seems to confer more respect. 
That might be true, but I don't find that one is harder than the other. They're all hard. Some have their particular challenges. Some that you participate in, and some that you discover as you go. In terms of like, the balance, I'm asked about the continuity to the degree all the movies have serious and humorous things going simultaneously. I think the way I see it, I come at these things like I don't consciously think about injecting a scene with humor to balance it out. I might be aware of the script where a joke might be too broad, or this moment, whatever the things are. There is real melancholy to Mistress America for how funny it is. I think that was always embedded in the material.
Was there more melancholy than you initially thought?
I don't know. I think the premise has melancholy baked into it because it's also about, as opposed to Frances, about a friendship that has real history to it, and probably has real future to it and how you maintain these kind of relationships as you change and develop in your life. This one is really about a kind of fleeting moment in these two lives. These people probably won't see each other again. And that has melancholy baked into it, it wasn't something that we really had to discuss that much, it was just going to seek out.
 In rewatching The Squid and the Whale and Margot at the Wedding, I noticed this thing in particularly these two that you do – I'm not sure what the term is called in classical music, maybe "ostinato" – but it's a kind of symphonic thing where you hit a note, and a bit later, you hit the same note, but in a refracted way. I'm thinking, for example, of the moment in Margot At the Wedding when Claude's cousin points out he has a moustache, and it's kind of contrapuntal with Jack Black's character and his moustache. To me that felt novelistic. Which made me wonder why you chose film rather than theatre or novels or any other medium.
Well, I think, the answer to that is that while I love novels and plays, they aren't in me, in the way that like from a fairly early age, even before I made a movie, I felt like I could communicate in movies, and not novels or plays. Certainly not plays as I didn't see a lot of plays growing up. Even to this day, it's not to say I wouldn't watch it sometime, when I watch a play, the logic of where people are at some point, I don't see it in craft. I see a good movie, I lose myself in the movie. I don't think about those things. It's something that feel that I understand, and connect to, and love. It's just how I do it. I know what you mean by that feels novelistic, but I think there's a big difference by things that feel novelistic and things that are very much movies. And things that are movies that feel like novels.
 I would get so pissed off when people would tell me I had to watch The Wire because it was novelistic. I always felt, you know, there are enough excellent novels out there, I could just read a novel!
Right, well, Brooke even says that on TV, she says "Well, here's the new novel." I think it's that thing where why the best books actually don't make the best movies. You could say that a lot of Bergman's movies are so theatrical, and he did theater brilliantly too, or would feel novelistic in their themes, and everything is sort of present, and they're so many filmmakers who use things like novels. I think so much of the feeling and impact is in the visuals and in the momentum and in the intimacy of that movie.
 There's this kind of sweet irony of, as you get older, your films seem to get funnier and more optimistic while simultaneously being more concerned with aging. It made me wonder whether getting older is in any way a relief for you?
In some ways it is. I don't know if getting older is a relief, but that it's not the end of the world is a relief. That they're actually positives to it. So yeah, I think so. My first movie is about people who feel much older then they are, and so in a way, those characters anyway, needed to grow into themselves a little bit, and I think that everybody feels that to some degree, this idea of like, what we've talked about in my movies, people who are squaring their ideas about how their life might be with how their life actually is, is universal. And I think in American culture, it can make you feel worse about that, you're ideas of how things should go are sometimes way out of whack with how life works. And becoming more sanguine about that is a kind of relief. That's what I was saying about Brooke, giving up on all this stuff. Leaving New York. Letting go of that restaurant. Letting go of all these things. It really lifts a burden.
 Were you anxious to be considered precocious when you were young and starting out?
There were definite stretches when I was. I was making fun of myself in The Squid and the Whale with that character because there were times in highschool when I was probably insufferable, in a way. Probably charming to somebody older. I certainly irritated a bunch of girlfriends. There were definitely periods.
 I'm curious as to your relationship with ambition in terms of aging…
I think I'm as ambitious as I ever was, but I kind of accept that more. When I was younger, there was a bit of embarrassment about that.
 I feel like people are allowed to be ambitious, particularly here in New York more than any other place I've lived in. I see that in Brooke, the vaunting, the blitheness of it.
LA too, I think. It's a thing when you talk ambition, you have to make sure you are talking about the same thing, because so many people use it as a negative, and I'm using it just as a thing. There's actually nothing wrong with being ambitious, it's how you handle you and what kind of role it takes in your life, and I think a lot of my characters are embarrassed about their ambition, but also have high expectations for themselves. Greenberg would rather say he's doing nothing than to say he's a carpenter, because for him it's either he had the dream of becoming a successful musician, or nothing. I understand that feeling; I see it in other people, particularly at certain ages. But I think it's true, in the best version, the older you get maybe you let go of that stuff. I'm old enough now to see that in people, people I've known for a long time, who maybe didn't, they're having a different version of aspects of lives than they anticipated, but the ones who adjust to that and actually thrive, do seem happier to me.
 In one review, and I don't actually remember which of your movies it was, but the critic used the term "the personal counterfactual" to describe what you do, as in a film begins with your own experiences, but then diverges from it. It seems to me that you've become more and more counterfactual and less personal, certainly since The Squid and the Whale. Is that fair to say?
For me they're all equally personal. I don't measure them in terms of how much autobiography is actually in there, and even just the way we were talking about Mistress America, even in thinking about movies from my childhood, it's personal. My kind of connection to those movies is really because they were part of my own development and the time I was getting interested in movies. And I do really think that for me everything I do brings me back to my childhood in some way. The subject matter could have absolutely nothing to do with that. Maybe part of that is the sort of play in making movies. I just think that there's something about my relationship and personal connection to my history and childhood is a kind of mode of creativity. I don't really know why that is and I really can't articulate it that well.
 Is it about reflecting on your childhood or the feeling of being a child?
It's the feeling and it's why I like being and shooting in New York. There's something about feeling having been on this street. The feeling of all the history of the city and me and that and all of the people that have been in my life and that I have walked the street with. No matter what scene we're shooting is probably, in some way that Proust understood better than anybody, or Knausgaard, that I feel some source of like, superpower, that ring gives you the thing. I try to put myself in that mindset as much as possible when I'm working. Maybe it puts you in the sort of time of less, it's an emotional feeling, not an intellectual one.
 Something ineffable, yeah. I get that feeling from Frances Ha and Mistress America. There's also that thing where you are watching some movie and you recognize a place and that's analogous emotional process of like "oh my god I know this place, and I've been there." There's some kind of back and forth feeling, a kind of communion.
I love that in movies. I mean, you can get that in anything, a painting or whatever, but in movies, because it's visual, it's verbal, it's characters, it's actors, there are are so many elements in there, lots of color, or it could be texture of a jacket, or a song. Movies have more of it to put in there. And that's I take that stuff equally seriously, because you want it all to be the right thing.
To me as a person who grew up very much not in New York, it looks like a movie. You know when I first came here and came out of the subway it was like,  "yellow cabs! Skyscrapers!"  For you, is there a filmic quality to New York that's inherent? 
When I'm filming New York, I'm generally coming at it from a more personal way, it's also because I've seen it in so many movies, at so many different times, and to your question before, why can you do the same song in multiple movies, or see the same part of New York in multiple movies, and when it's in the right one, it resonates. Your own experience connects to it somehow, as opposed to like "I know that song." It is more personal, but obviously when you are shooting in New York you have to be aware of the fact that you've seen these things in so many movies, so you have that in mind. I'm at the point now where like, any movie actually shot in New York from my childhood, certainly my younger childhood through the 80s, and probably the 90s will start giving me this now, but I can watch any of them, because I can just watch the background, even if its not my favorite movie. It's moving to me to watch and see something and be like "I remember when that was still there."
New York has that special quality — it's both instantly recognizable and iconic, and at the same time, the city looks completely different to me, street by street, every month. tYOu know, that restaurant has gone, or that new building has gone up. I think that sort of feeds into the beautiful things you were saying about a place having layers. Changing, but but still the same place.
I think the ending of Mistress America, the sort of sadness… there's hope for Brooke, but in some ways the sadness is that she has to leave New York to find it. Because in a way she's a character that comes out of New York in my mind and New York stories. If you actually bring that character into reality, she's gotta leave.
 In terms of the personal, or rather the autobiographical, I was just reminded of, in watching this, in watching the moment in Margot At the Wedding where the sisters confront each other, and you, in terms of plundering from a life for fictive purposes, and whether you have created a set of rules for yourself, in that respect? What are the ethics for you, of this.
I haven't been asked if I have a specific ethic before. I guess it's a little like the pornography thing where you know it when you see it. Or the supreme court. I actually feel like the Brooke / Tracy argument what I liked about doing that was I don't think either of them was more right or wrong than the other. And they actually are two people. I don't feel like you actually see too much of that in movies, where two people have good points and they're fighting. Because generally, you want to take a side, but if you watch people fight in real life, sometimes you take somebody's side, but usually it's because you like them better. Or you're obliged to. I thought that there isn't an easy answer to this. I suppose I feel that too. But hopefully you know it when you see it.
 In terms of "it" being "a breach"?
Yeah, or you change to a degree that you still feel like it's interesting to you, because I'm not actually interested in taking things from real life and putting that in movies, I'm interested in constructing something out of these things. I do like using real names, for the same reason that I like using the city, particularly in the early stages it helps me believe that these people exist. When you're making up a name it just sounds ridiculous. Those happen to and you get used to it. I do like using, at least combinations of names, names that I've had in my head, they just seem preexisting. Ben's character in While We Were Young is named Josh Shrebnick, and he's a close friend of mine from college. I would never do it if I was actually using anything for that character. And Josh is fortunately comfortable and confident in his life that he's not going to take offense. And Greenberg, Roger Greenberg, was an old friend of mine from my childhood. We don't see other as much anymore, but he was a kind of meaningful person in my life. He was friends with the family. He was a little older, but a little older when you're young feels very old, and like an older brother in a way. He was very sweet with me. I wanted to use his name, I don't know why. It had nothing to do with Greenberg. But these are people that all signed releases and I told them about the movies and they were all on board.
 I know what you mean about names feeling fake. I have such prejudices and valencies with names. As in, if you meet someone called Samantha who's a bitch to you when you're thirteen, you're never truly going to like another Samantha again. 
No, sometimes I will actually – because I agree with you – I might use a name of somebody I didn't really like to sort of solve it and get through it.
 Does it work?
I don't know, that's a good question. [laughs] I haven't done it for a main character. But you know Leonard Michaels? He wrote a novella called The Men's Club, which I think was his most well-known one, but he wrote an essay about names, which I think was in a collection called Time Out of Mind… it's a very beautiful way of talking about why he uses real names. It's not even exactly the same as what I'm saying but it's very interesting.
 And what are you excited about culturally right now – what are you reading or watching.
I just finished, today actually, the third My Struggle. I really, really like those books. They're interesting because they're hard to talk about to people who haven't read them because there's no way to really, unless you fall back on, "well, like Proust,", but what works about them, and I'm not even entirely always sure what works about them… I find them really just the experience of them, more so than… in all of them there are… oh the thing… the sequence with his brother and the grandmother at his dad's old house – you can point these things out, all these things are there and they're great sequences but less so than other books I don't really think about passages, I think about the whole experience of the thing, which is interesting. There's something almost private about them, I actually find that I don't talk that much about them with people, I sort of find that you have your experience with them, as opposed to, I'm trying to think what other novel-novel…
They're not really debatable, are they.
No, no. Yeah.
 Do you watch TV? (I hear it's the new novel.)
It's the new novel I hear. I really don't watch a lot of it… and in this day and age you can't call that snobbery. Because that's where all the good stuff is happening supposedly. I don't, and I don't really have a good reason for it, I just don't find myself drawn to doing it. If I'm sitting down I usually find a movie to watch or sports or even waste time flipping around the channels. To the degree that I still have cable although I keep whittling down my cable package. In terms of movies that I've seen that I've really liked… I really liked the Mad Max movie. And I've been on a lot of planes so I've sort of caught up with all the Liam Neeson movies. Which I've enjoyed. Some of them I really enjoyed. I watched that documentary that Les Blank made about Werner Herzog making Field of Dreams. It's really good. And then there's the Les Blank movie on Leon Russell that I want to see, I heard that's great.
My fiance just wrote about that! I really want to see it. But anyway, thank you for this, it's been a real pleasure.